The Starlite Theatre

Sacramento's Premiere Classic Movie Venue Since 1996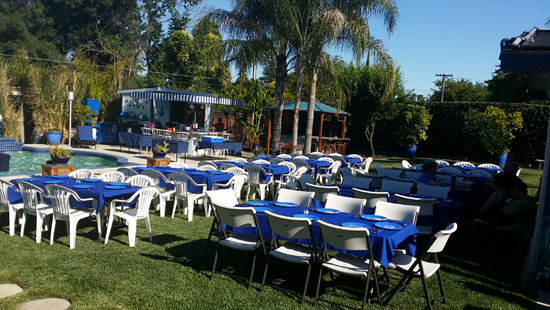 From April through October the Starlite Theatre is Sacramento's place for classic film fans to enjoy movies under the stars. Founded in 1996 by Sacramento film historian Nick Langdon, the Starlite originally ran 16mm film, but in 2004 the theatre was converted to digital. The theatre grounds feature a full kitchen, dedicated restroom, heated pool, projection room and a functioning marquee. The screenings are private, not open to the public, and there is no charge for the events.

The Starlite specializes in light romantic films, musicals and screwball comedies. The theater boasts two gigantic screens, one for pre-1954 films (9x12) and a 10x18 foot wide screen. The events are a great opportunity to make new friends who share your enthusiasm for classic movies in a relaxed environment and you just might dominate one of our trivia contests!

Each screening is preceded by a potluck dinner and a custom prologue featuring a cartoon, short subject, coming attractions as well as a personal on-screen introduction of the film by Langdon.

To learn more about the Starlite Theatre contact Nick Langdon at nlangdon@decofilms.com.
The Starlite Logo is the exclusive property of Nick Langdon.